AMBASSADOR PRESENTS LETTERS OF CREDENTIALS TO H.E THE PRESIDENT OF AUSTRIA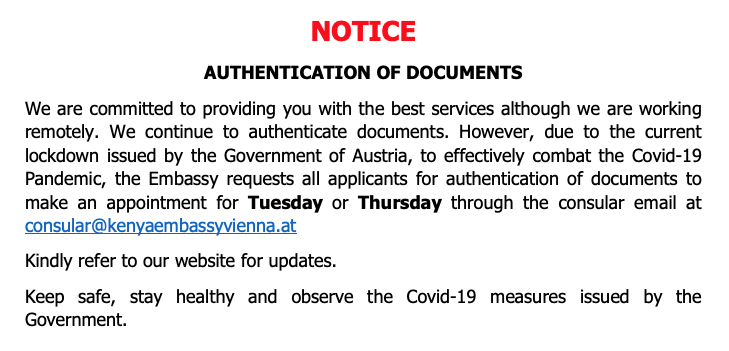 ---
Implementation of 100% e-Visa
The Government of the Republic of Kenya has fully automated the issuance of visa with effect from January 1, 2021.
In this regard, all passengers travelling to Kenya from countries that require visas to enter Kenya are required to apply and obtain an e-visa before boarding an aircraft as no visas will be issued on arrival or at the Embassy.
The e-visa can be obtained through www.evisa.go.ke portal.
---


---
KENYA SET TO CONTRIBUTE ITS WEALTH OF EXPERIENCE INTO THE UN SECURITY COUNCIL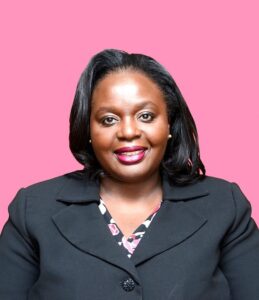 In just under a month, Kenya will be on the ballot for one of the five vacant slots reserved for non-permanent members of the United Nations Security Council. Kenya's bid follows a resounding endorsement by the African Union in August 2019; a reaffirmation of the trust the Union has in Kenya's leadership to pursue the continent's interests in the Council.
Kenya is renowned for many things: it is the archeological cradle of mankind; its galaxy of middle and long distance runners have dominated the world athletics scene for decades; and, its tourist attractions, that includes the great annual wildebeest migration, the Great Rift Valley, the Maasaii Mara, the expansive beaches and mountainous landscape, are, probably, unrivalled. In addition to these and many others is that the country stands out as a global thought leader and a champion for galvanizing regional and global consensus on matters of international concern.
.
.
..
Read more
---

Your browser does not support the video tag.
---

[/one_full]
How to protect yourself against COVID-19