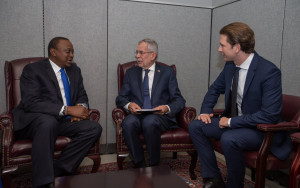 NEW YORK, USA, 24th September 2018 – H.E. President Uhuru Kenyatta held bilateral talks with the President of Austria Alexander Van der Bellen during which the Austrian leader invited President Kenyatta to the Africa-European Union summit to be held in Austria in December.
During the December meeting, Kenya will play a pivotal role as a role model for Africa in innovation and technology at the conference.
On his part, President Kenyatta invited the Austrian leader, who was accompanied by his Federal Chancellor Sébastien Kurz to the blue economy conference to be held in Nairobi on 27th November. President Kenyatta further sought Austria's support in Kenya's bid for a non-permanent member of the UN Security Council in the period 2021 to 2022.